This week, I got an amazing opportunity to interview Juliet Wilson: a poet, environmental conservation volunteer and a blogger this week. I first found out about her when we studied her poem for school and she is such an inspiration!
On occasion of World Environment Month, I thought it would be nice to spread a little more about the ecosystem and this year's theme is #EcosystemRestoration. It is a growing issue in today's society and we must start being more careful.
Juliet Wilson is an example and she spreads messages through her poems, writings and blogs online, too. So without further ado, here is the interview:
MR: Hello! Thanks for being here! Could you tell us a little about yourself? Where can we find you online?
JW: Hello Maya, thanks for inviting me along! I'm Juliet Wilson, a writer, crafter, adult education tutor and conservation volunteer, based in Edinburgh, Scotland. I blog and tweet as Crafty Green Poet, my blog address is http://craftygreenpoet.blogspot.com and on Twitter I'm @craftygreenpoet.
MR: How and why did you get into conservation volunteering? What have you learnt through it?
JW: I first got into conservation volunteering when I was a student and wanted to get out into the countryside as a break from studying. After graduation, I didn't volunteer for a while but now I've been volunteering once a week with Water of Leith Conservation Trust for several years. The Water of Leith is one of Edinburgh's rivers and is a beautiful place to walk.
I like feeling that I'm having a positive impact on the river by picking litter and recording wildlife and love seeing how the area changes through the seasons. I've also got to know about the history of the area, which was once full of water mills powering industries such as paper making, even though nowadays long stretches of the river feel quite rural.
MR: That's lovely! I've read some of your posts in the series you're currently doing, and it is very educational. What is the idea behind it, and what do you hope to spread through it? Are there other series you particularly enjoyed writing?
JW: My current series of blogposts is based on the Wildlife Trusts' 30 Days Wild project. This project encourages people to get out and about every day in June to experience nature. The idea is to try to offer people different ways of engaging with nature, from creating crafts using natural materials to learning how to identify different species of insects.
I've taken part for several years now, though I don't always blog about the project every day in June. You can find out more about 30 Days Wild on the Wildlife Trust's website: https://www.wildlifetrusts.org/30-days-wild-2021-sign-your-pack.
MR: 30 Days Wild seems so interesting! So you've been blogging for around 16 years now! What's your motivation? Do you have any tips for bloggers that are just starting?
JW: I started blogging because I thought it would be a nice way of sharing my thoughts about nature and making connections with like minded people. I enjoy the fact that people respond to my posts and I can then visit their blogs! I've made a lot of connections with other bloggers over the years, though not all of them are still blogging. My blog is called Crafty Green Poet because I share posts about recycled crafts, nature and environmental issues and literature that has some sort of connection with nature. The idea being to use a variety of ways of engaging people with nature.
Blogging has changed a lot since I started! I would say if you're a blogger just starting out, it's best to blog about something you're really enthusiastic about. Look at the blogs you enjoy reading and see how they do it, but don't directly copy anyone else. Take the time to visit other blogs and leave comments, that way you encourage more people to visit your blog. Blog quite regularly but don't feel that you need to blog every day. Short blog posts with photos often work better than really long posts with no photos, but every blog is different!
MR: You have Etsy shops where you sell crafts made from recycled materials, and I find them very innovative! What are some of your favourite things you've made? Any stories behind them?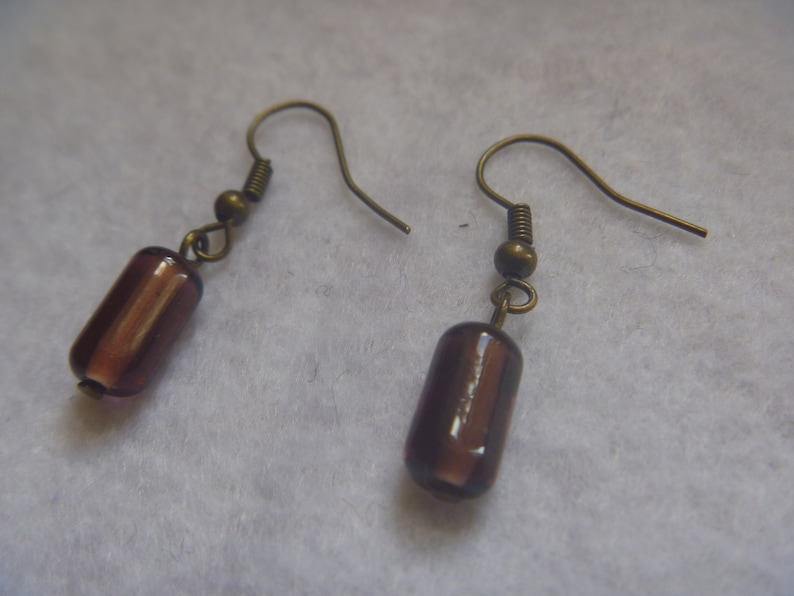 JW: I have two Etsy shops. Crafty Green Poet is where I sell my handmade items – I particularly like making beaded jewellery. Some second hand shops in Edinburgh sell off bags of broken and unsellable jewellery, which I like to buy. There are usually a lot of interesting supplies in these bags and I like making them into new items (when I make earrings, I always use brand new earring hooks, for reasons of hygiene!)
I also like making greetings cards, not to sell but to give to friends and family. I like making cards that have some sort of personal meaning for the recipient.
My other Etsy shop is Crafty Green Magpie where I sell vintage items and craft supplies.
MR: We're studying your writings this year at school, and I particularly loved The Lost Dances of Cranes! What was your creative thinking process for it or your poems in general? What are your sources of inspiration for your poetry and haikus?
JW: Nature is often my main source of inspiration. The starting point for The Lost Dances of Cranes was the fact that many species of cranes are declining in number because of human encroachment on their habitats. Poetry feels like a way to both respond to the issue on a personal level, but hopefully it also helps to raise awareness a little. A haiku is almost always a response to a particular encounter with nature and is written very much 'in the moment'.
lockdown
-rain drums endlessly
on the windows
© Juliet Wilson
MR: Your writings have been published in several places online (including your blog). Have they influenced your readers with regard to environmental degradation?
JW: I hope so! Some readers of my blog have said that my poetry has encouraged them to find out more about nature or about environmental issues.
MR: So glad to hear that! You've made some relatively unknown issues more familiar to me, too! You are a marvellous writer across many genres. What are some books, people or authors you think have influenced your life and your writing?
JW: There are so many great writers who have inspired me! Margaret Atwood, though more famous as a novelist, is probably my favourite poet. Richard Mabey is probably my favourite nature writer.
I don't think I could choose a favourite novelist! You can get an idea of which books have influenced me by reading the short reviews I post on my blog. Since the beginning of lockdown, I've been very inspired by the poet Kate Clanchy who is also an English teacher and has shared poetry written by her students on Twitter.
MR: In the light of the coronavirus pandemic, do you think there has been an impact on nature? What can we do from our homes to help?
JW: I think that the pandemic has impacted nature in several ways, certainly in the UK.
1) As cities and towns became quieter due to lockdowns then animals have started to come into these built up areas more.
2) As lockdowns have eased and people have gone into green-spaces more, not everyone has known to respect nature and there have been too many instances of dogs running wild and disturbing nesting birds and fires being set.
3) Some people have been very careless and animals have sometimes got caught up in discarded masks and gloves.
We can all help by being careful when we go out, keep dogs under control, don't set fires and don't drop masks and gloves (when possible, wear reusable masks, ideally those that tie around the back of your head, which don't fall off.) During very strict lockdowns it might feel as though we're separated from nature, but it's still possible to put out food for local wildlife or to take part in online citizen science (I've enjoyed sometimes taking part in the nature projects on the Zooniverse website.
MR: Thank you so much for doing this interview! I'm definitely going to start being more careful, and this has been so fun! Lastly, what's next for you? Any projects you're working on (or any readings!) we can look forward to seeing more of?
JW: Thanks for interviewing me! Now that things are (perhaps) starting to return to some sort of normal in the UK, I'm hoping to be able to do more guided walks and outdoor creative classes.
This has to be one of the most fun blog posts I've worked on, so a huge thanks to Juliet Wilson! I think she's an inspiration for our generation and we've got to be more careful when it comes to our environment. I hope this has motivated you to do something to help our planet be it being a responsible pet owner or a being a mindful citizen. Here is one of my favourite poems by Juliet Wilson, and thank you all so much for reading!
Mayfly © Juliet Wilson
heat haze
swallows laze
across the lake
to catch mayfly
for the mayfly
iridescent in the sun
this languid day
is eternity
Did you enjoy reading this interview? Have you read any of Juliet Wilson's poems or checked out her blog? What do you think you can do to help the environment? Tell me in the comments! Until then xx