…And I'm back with another series for y'all! I love analysing literature and it always seems to help my writing, too. I'll be posting here every week and it's basically just a category for my literature and lifestyle posts. Since it's pride month, what better topic to discuss than diversity?
YA fiction, recently, has been coming out with so many more different characters albeit the white, straight characters still populate a large number of novels. Is there a problem with every single protagonist being in a trope-ey love triangle, stuck in a dystopian world, finding out she's the lost princess… and the usual? Yes, there is!
Which is why we look to books that are more relatable; we see ourselves in the story. What is the point of stories if they're all the same? Isn't the point of writing a story that it is different and refreshing? Well, today I'm discussing diversity in stories and giving all of you recommendations!
I'll be choosing a few popular books to prove my point that the straight white girl trope is oftentimes misused. Take the Throne of Glass series by Sarah J Maas. When I first read it, I had nothing whatsoever to compare it to, and I still love it for what it is, but that doesn't mean it isn't problematic.
The protagonist and all her love interests are white. The only person-of-colour of remote importance is killed so early in the series that we don't get to know more of her, and there are only a few LGBT+ people (Mor, Aedion, Davis, etc) and they're not in any way the main. I still feel that there should have been a few more people of colour in the entirety of the eight books, for there were barely any main characters who were.
I've mentioned previously that I am not a fan of the Keeper of the Lost Cities series and the main reason for that is lack of diversity. Even more so, they degrade people of colour: the dark-skinned goblins who—willingly—are employed as slaves for the ever-fair-skinned, blue-eyed elves. The series isn't bad (don't get me wrong; it's pretty okay) but it wasn't great.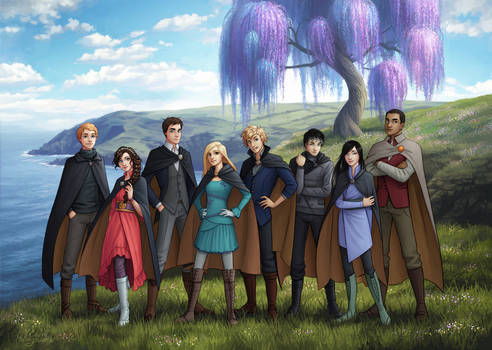 Perhaps her books get better through the series (I still haven't gotten past the third one :i) but what I said was enough to get me to put a hold on the series for a while. I probably shall continue with it, but for now, I'm not too happy in the direction it led.
I know that this is a very popular series, but it just didn't click for me, and it is relatively problematic what with all of its alleged plagiarism and the trope-ey protagonist. I do hope to give the later books another try, but the implied racism was quite a fall-back.
The last of the three series I want to talk about is one that doesn't have that many problems (in fact, the author is rather inclusive of diverse characters) is the Lunar Chronicles. Many people have commented on her interpretation of mental illnesses and her Asian representation.
I think it isn't that big a problem, but she's mentioned that Cinder and Kai's ethnicity is 'Asian' but there are different types of Asian. It's almost as though you're saying someone's European. Scarlet calls Winter 'crazy' so many times in Winter, the third book in the series which is not really the best word. In fact it's far from the best.
I still love the Lunar Chronicles. But like every book we love, it, too, has its flaws.
I've talked about how there are books that misrepresent characters, but while they exist, there are authors who've done an amazing job of writing diversity into their novels. An example of this in popular fiction is the Grishaverse, by Leigh Bardugo.
I know that there are issues with her Shadow and Bone trilogy (regarding her interpretation of Russian customs or something of the kind) but they improved the representation aspect in the TV show by including a British-Chinese actress, some with Nepali heritage all while staying true to the books.
Cassandra Clare books never fail to include diverse characters in her book series: the Shadowhunter Chronicles. From LGBT+ people (who everyone ships) to people of colour, autistic people and plus-size women, she includes the people into the story and also points out why and how they are not different from the white/straight characters.
So, enough of me ranting on and on about advocating diversity in YA. Try these books out for yourself and enjoy the representation. Oh, and Happy #PrideMonth! Some of these books are popular, not all of them have loads of representation, but they do have some. I haven't read all of these books (some were recommended to be by my real-life friends) but they all seem really good!
---
They Both Die in the End: When Mateo and Rufus are told that they're going to die that day, they find each other through an app in hopes of spending their last day with a friend. What ensues is pure entertainment.
---
Hani and Ishu's Guide to Fake Dating: From the author of The Henna Wars, this book was one of my most-anticipated releases! This has so much representation and I love the Indian characters ❤
---
The Shadows Between Us: Alessandra plans to marry the king, and then kill him. She's to find out that she isn't the only one who wants to.
---
The Wolves of Mercy Falls series: Grace has been watching a wolf for her whole life, but from her window. When the two meet, they both find that secrets lie in their past and Sam has to fight to stay human.
---
The Hate U Give: Inspired by the BLM movement, this story follows one girl's fight for her rights. This is also a film, and it's beautiful, and moving. I haven't read this one yet, but I've heard so many great things about it!
---
An Ember in the Ashes quartet: Laia and Elias, the two protagonists, find out that there destinies are intertwined. Read on as Laia avenges her family and Elias sees his past and future unravel while the Resistance fights the Empire ruling over this country inspired by Ancient Rome.
Thank you so much for reading this pride month awareness + diversity discussion post! Once again, I do hope you support the community! I'm not a part of it, but I totally support it and you should too :))
These are some of the books I love—which feature diverse characters—but you could always give me recommendations in the chat! Once again I want to reiterate that I do not mean to make any controversial statements by pointing out things about The Lunar Chronicles and Throne of Glass because I actually like those two books. I don't know if I like KOTLC but it's okay!
I'm working on something interesting for next week and I hope I'll get the opportunity! I can't wait to show you all! Thank you so much for reading this and I'll see you next Sunday!
Do you enjoy diversity in books? If you do, what's your favourite kind of representation? Have you read any of the books I've mentioned, or maybe there are some books you feel have bad/good representation? Tell me in the comments! Until then xx